With 879 square miles, Bladen is the fourth largest NC county.
Once North Carolina's largest county, Bladen received its name, "Mother of Counties," because fifty-five counties have been carved from it
*Bladen County is also the home of the oldest documented Taxodium distichum (bald cypress) at 1622 years old.[
Bladen County on Wikepedia
"Bladen County was formed in 1734 as Bladen Precinct of Bath County, from New Hanover Precinct. It was named for Martin Bladen, a member of the Board of Trade. With the abolition of Bath County in 1739, all of its constituent precincts became counties."
Some unusual history can be found via this website, discussing the settlement of Bladen by Highland Scots, at the urging of Gabriel Johnston (colonial governor 1734 to 1752, longest-serving governor in state history)
Bladen County website
Bladen County with the NC History Project
National Register of Historic Places in Bladen County, NC.
(from Gribblenation)
"Tucked away in Southeastern Bladen County, one of the last remaining inland river ferries crosses a sleepy Cape Fear River.  For over a century, the Elwell Ferry has shuttled local residents and farmers across the river between the tiny crossroad towns of Kelly and Carvers.  Every day it even carries a curious traveler or two, who may have heard stories of the little ferry and wanted to see it for themselves."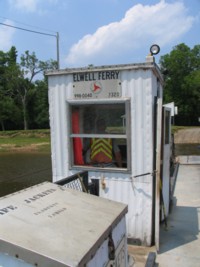 Elwell Ferry is one of three cable operated ferries still operating in NC.  NC Culture recently did a newsletter post on these ferries, and you can also access that information by clicking here.
Photo credit: Gribblenation
actual cable mechanism of Elwell Ferry
120 Bermuda Dr, Council, NC 28434
 64 acres
Although at this time, we are having trouble with finding a current photo to use of Oakland Plantation, I did find this undated photo on Wikepedia commons.
You can find current google images at the following link:
120 Bermuda Dr, Council, NC 28434
 64 acres
Jones and Singletary Lakes are state owned parks
4117 Hwy 242 N, Elizabethtown, NC 28337
(910) 588-4550
6707 NC 53 Hwy. East, Kelly, NC 28448
(910) 669-2928
Many may remember Bladenboro for the series of animal killings, believed to have been done by the "Beast of Bladenboro", back in the 1950s.  This Wikipedia link has yet more links to multiple reports at that time.  It is believed that the animal resurfaced in 2007, and rumors resumed.  MonsterQuest did an expose at this time.  More than fifty animals were killed in this period, between Greensboro, NC and Bolivia, NC.
An informative video is available on YouTube
Every year, Bladenboro hosts the Beast of Bladenboro, NC Festival.  You can follow the activities on their Facebook page.
"The most noticeable landmark in this town is the imposing Clarkton Presbyterian Church on Main Street. Frequent visitors to this town also find the Clarkton School of Discovery to be an important landmark in this town. It is located approximately half a mile to the north of Clarkton Presbyterian Church on US Business Route 701." *Wikipedia
County seat for Bladen County.  To visit their homepage, please see Town of Elizabethtown.
One upcoming event in Elizabethtown is for August of this year.
Battle of Elizabethtown at Tory Hole Reenactment
August 16th-18th Tory Hole Park
Schedule of Events at Tory Hole Park Saturday, Aug 17:
Open to public at 10:00am 10:00 Canons Fire as event opens
11:00 Period Music (on Stage)
11:30 Revolution's Roots in the Church (on stage) 12:00 Canon Fire and Weapons Demo
12:30 Highlanders in the Cape Fear Region (on stage) 1:00 Scottish Pipe and Drum Music (On stage) 1:00 Tomahawk Throwing Competition
1:30 Revolution's Roots in the Church (on stage) 1:30 Artillery and Weapons Demo
2:30 Sally Salter arrives
Tar Heel is home to the largest pork processing plant in the world which opened in 1992, operated by Smithfield Foods and is located just north of the town limits. *Wikipedia
To learn more about White Lake, please visit Welcome to White Lake.
To see a calendar of events for White Lake, please check the calendar.